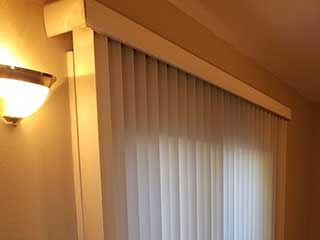 Each type of glass opening in your residence or business can benefit from a specific set of blinds or window shades. Many windows who share similar dimensions can utilize the same type of blinds. But the larger the surface area gets, the more people find that vertical blinds provide the best bang-for-your-buck. That's why you so often vertical blinds on office window walls in movies. Because they exist there in real life too! As the leading source for custom blinds in the Oakland area, we love helping folks get made-to-measure window treatments that give them the utmost benefits. If you need to cover sliding glass doors or larger windows, vertical blinds have a lot to offer you.
Patio Door Vertical Blinds
The sliding glass doors leading to many Oakland patios have a very appealing look. However, they also create a huge "hole", usually at the center of your home, that can let a lot of harsh sunlight in. To mitigate that, you need to cover sliding glass doors with the right set of treatments. As you can guess, vertical blinds for sliding glass doors do a fantastic job filtering sunlight or even blocking it completely. With a huge choice of colors and faux wood, vinyl, aluminum, and many other materials, choosing something to go with your interior décor will prove easy. Vertical blinds work especially well for patio doors and similarly sized surface areas. And their unique look also adds a lot of aesthetic appeal.
Oakland Office Vertical Window Covers
Whether for meeting rooms, corner offices or entire floors, vertical blinds make for a hugely popular shading solution. If your commercial space has gigantic window walls that let in a clear view outside, that's great! However, at certain hours of the day, the harsh sunlight can cause computer screen glare and may even annoy or damage vision. To prevent that, covering the window walls is a must. Our selection of commercial vertical blinds offers you an elegant (and affordable) way to cover office windows. By providing proper shading, you can increase work productivity too! Not to mention, there are also privacy benefits.
Blackout Vertical Blinds – Windows/Doors
While controlling sunlight is the main purpose of window treatments, that's not all they do. They also increase décor, sure, but there's a more crucial aspect to them. Privacy. If you're having a meeting you want no prying eyes to spy on, or you're trying to go to sleep or nap but can't deal with early morning or mid-day sunlight, we've got excellent solutions. Blackout vertical blinds, custom made-to-measure, allow no light through when fully closed. That makes them perfect for both office spaces and residential bedrooms or living rooms. With blackout vertical blinds, your windows or glass doors won't become a source of annoyance, no matter what time of day it is.
Motorized Vertical Blinds For Oakland Area Customers
We discussed some of the main benefits of vertical blinds for homes and businesses. Now let's talk about an additional aspect that can take them to the next level – blinds motorization. That's right, in today's day and age, electric window treatments are the way to go. Motorized vertical blinds give you all the previously mentioned benefits, with the addition of remote control and/or automation. Choose Wi-Fi motorized vertical blinds and use your phone to create shade or to illuminate your indoor areas at will. From battery-powered to wireless motorized blinds options with Somfy and/or Lutron controls, our range of choices has practical high-tech solutions for every need and budget. Looking for the best budget-friendly, professionally installed motorized blinds, vertical or otherwise near Oakland? Give us a call to get a free quote + an in-person consultation (also free, and at your address).