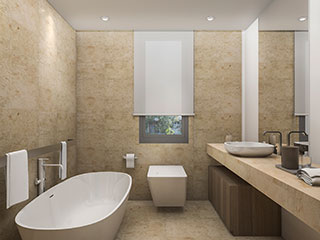 You can protect furniture and wallpaper with window blinds that filter or block any amount of sunlight you want. However, when using blackout blinds, you can do a lot more than that. Blackout window treatments let no sunlight enter, not even diffused rays. That means you can create total darkness inside the room, provided all windows have blackout blinds installed. This works fantastically well for bedrooms, living rooms, and even office spaces where one might want better privacy. As the nearest source for blackout blinds to Oakland, we offer clients a lot of different options. From motorization to different materials and designs. Use our expertise to craft custom made blackout window blinds perfect for any need. Remember that made-to-measure window coverings offer you complete concealment and coverage. That means optimal privacy and sleep every time.
Blackout Window Coverings For Privacy & Sleep
To gain the best sleep possible, you need to make sure your bedroom windows don't let in any light. Whether it's streetlights or the sun, even a tiny amount can wake up far earlier than needed. Or it can prevent you from being able to fall asleep. And that's where blackout blinds offer such benefits. The use of vanes that overlap prevents light from sneaking through tiny gaps between the vanes. They simply don't exist. Blackout window blinds offer your Oakland home or some other commercial space an excellent choice for window treatments. Sleep will remain uninterrupted and you'll get a good rest and have more productive days. Sleep being so important for general health and mood, it's no wonder why so many clients choose blackout blinds for bedroom windows.
Blackout Blinds With Motors & Remotes
Choosing to get automatic window coverings installed gives you an excellent range of features. From simplicity to efficiency, motorized blinds, blackout, or other types, offer a fantastic arrangement. With motorized blackout window blinds, you can lie in bed and have no need to get up to cover the windows. A quick push on the remote control button will take care of that. The same goes for office spaces or other areas. Your motorized blackout blinds will close themselves and you won't have to stop working and lose your momentum. Besides bedrooms, these window treatments offer excellent covering solutions to office spaces too. Motorized blackout blinds installed in your Oakland office provide the perfect privacy for meeting rooms and alike. No one can look inside and spy on the conversation.
Where Can I Get Blackout Blinds For Oakland Windows?
As you may have guessed – right here! We provide a long list of custom made window treatments, blackout, sheer, and everything in between for properties of all nearby areas. You can choose different features, designs, and materials for your new blackout blinds, and we manufacture everything according to those specifications. With made-to-measure covering solutions, every window can receive complete coverage from head to toe. Call us to schedule a free estimate on blackout window blinds for any Oakland area residence or business space.