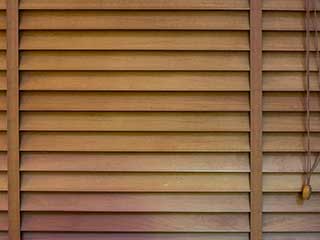 Adding elegant window coverings to your home doesn't have to be a hassle! While real wood window treatments require a lot of care to keep them in good shape, the same isn't true of faux wood blinds. They look the same, but are much simpler and cheaper too! Contra Costa Windows Blinds's team is here and happy to help you find out the differences between the two, and much more! Read down below for more information about our excellent custom-made faux wood coverings.
Pros and Cons of Real Wood vs Faux Wood Blinds
Wood window coverings have been a popular and refined-looking choice for many years, and with good reason. They look lovely, and all while complementing any space. However, wood treatments made with real timber also have some maintenance requirements to consider before committing to them. They are susceptible to damage from moisture, especially in areas with a lot of humidity. Any water can cause them to rot, or swell up and splinter. To protect against this, they need repeated treatment. Along with this, special cleaners are necessary, rather than being able to wipe them down. They're expensive as well, so it's often more affordable, and much easier, to instead use waterproof faux wood blinds instead.
Spruce Up Contra Costa Kitchens with Faux Wood Window Treatments
Kitchens make a great space for wood blinds, as the natural and welcoming feeling they bring adds a homey aesthetic to the area. However, window coverings made from real wood can sustain harm when in a kitchen. Steam, splattered liquids or oils, and various other hazards due to cooking can damage them irreparably. Their cleaning requirements also make them more difficult to have in such a space. However, waterproof faux wood blinds for kitchens are an excellent choice! With faux wood, there's no risk of harm by any of the aforementioned materials, and you can clean them up without fuss if needed.
Custom Faux Wood Blinds for Your Contra Costa Home
We provide free consultations to help you pick the finest fitting blinds for your windows in the easiest way. There are a few different materials to choose from for your custom-made faux wood blinds, such as vinyl and PVC. Regardless, they are sure to be durable, yet flexible, allowing them to avoid breaking. You also get to decide on the imitation wood staining color that best suits the room, with assistance from our professionals, of course. Your home will look stylish and gorgeous in no time thanks to your new faux wood window treatments!
Made to Fit Blinds (Wood & Faux)
Contra Costa Windows Blinds creates each set of custom faux wood blinds according to the exact specifications of your windows. This means there won't be any unsightly gaps to let in light, instead they will fit each window perfectly. We offer free estimates, along with in-person consultations to help you customize your choice of blinds, shades or other coverings. Interested in faux wood blinds for your windows? Get a free quote and all the advice and info you need by booking a consultation appointment.