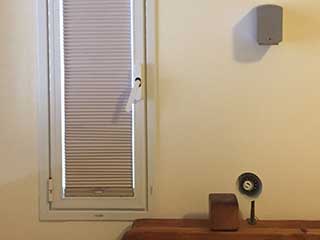 Are you looking for the most stylish and affordable window coverings for your Contra Costa home or business? Good news – there's an amazing selection of options for you to choose from. And Contra Costa Windows Blinds is here to help you do that! Our professionals will use our years of experience to assist you in finding the right set of treatments for your needs with our free consultation. One of the types you likely see all the time is Venetian blinds, and that's because they're very versatile and simple. A classic choice for homes and office spaces, Venetian blinds offer a lot without overbearing the décor.
Metal Venetian Blinds For Contra Costa Windows
Our team is here to go over the different types of materials that Venetian window treatments come in, so you can narrow down the right style for you! We can tell you which are the most affordable, like metal Venetian blinds, and sturdy, such as aluminum. Our vinyl or PVC materials are great for those who want their coverings to be low maintenance, and quick to clean! Whatever option best fits your needs, you can rest assured you've made the right decision with help from our experts.
Gorgeous Faux Wood and Wood Venetian Blinds
If you're more concerned with a beautiful aesthetic than anything else, our wood Venetian blinds are what you've been searching for! Wood naturally gives a refined air to any room, and the shade of its staining can match furniture, or otherwise. They look amazing in-home offices, living rooms, or any other room you're hoping to impress with! Real wood does require maintenance, but we also have faux wood Venetian treatments as well. These don't require the upkeep and are also more affordable as well.
The Most Effective Blackout Venetian Blinds in Contra Costa
Do you work late into the night, and struggle to get the rest you need during the day with how bright it is outside? Or, do you have a child who's sensitive to the streetlights? Blackout Venetian window coverings can take care of this easily! Rather than have even the slightest glow come through your treatments, blackout Venetian blinds assure that any room will be completely dark. Our technicians make each set according to the measurements of your windows, so there's no concern of gaps to let in light either! This style of blackout Venetian blinds is excellent for nurseries to keep your baby sleeping no matter the time of day. They are great for assuring privacy as well, which makes these blackout window treatments perfect for bedrooms!
Step into The Future with Motorized Venetian Blinds
Smart home devices help to streamline your busy lifestyle, and motorized Venetian blinds are no different! Rather than dealing with unwieldy manual strings, Wi-Fi capability allows you to control your electric Venetian blinds from any smart device with an app. You can open or close your treatments with ease, even while away from home. Wall sensors are also available to automatically adjust them according to your preferences, so you won't have to worry about a thing! It's time to simplify and modernize in no time with the finest motorized Venetian blinds in Contra Costa. Give us a call to book a free estimate at your bay area home or office.