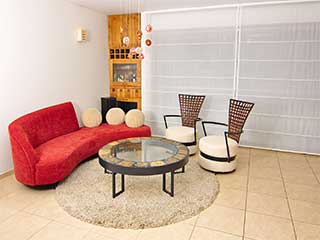 Beauty is one of the main aspects when getting new window shades installed in your home or business area. Sure, the utility plays a huge factor too. After all, you want your new shades to block or filter sunlight and prevent glare or UV damage to furniture, wallpaper, and other items. But the style and décor that you can add to the room when choosing the right coverings can truly elevate the whole vibe. And that's where Roman shades come in. These classic window coverings have existed for so long, it's no wonder they've become a staple for class and elegance in the world of window treatments.
Sheer and Blackout Roman Shades
Before we start touching on design options, let's talk about utility. One of the upsides of Roman shades is their versatility. You can get them made from a variety of fabrics in all sorts of opacity levels. Want to darken the room completely when the shades are drawn? Go with blackout Roman shades and maximize your privacy. Want the window covers to diffuse light and make it soft and warm rather than harsh and glaring? Then choosing sheer Roman shades for your Oakland home or office windows can offer you the best solution.
Roman Window Covering Designs
The versatility of Roman shades plays out in more than just opacity options. These pleated window coverings come in a huge selection of designs and styles, making them able to fit all sorts of interior décors easily. You can choose the classic pleated Roman shades for a simple and safe design choice. But if you want to give the room more elegance, you've got all sorts of other vibes to go with. Fishtail, relaxed, and waterfall shade styles are only some of the many different and elegant options. You can even choose flat Roman shades for an unassuming furnish that adds to the décor without overtaking it.
Custom Motorized Roman Shades in Oakland
Looking for a local bay area source for Roman-style coverings with a remote control? Contra Costa Windows Blinds offers custom-size motorized Roman shades that utilize the latest innovations in blinds motorization to give you convenient and simplified control over your window coverings. You can choose different types of features to suit your budget and wishes to create covers that don't just look great but work smoothly day in and day out. Our selection of automatic shading products includes smart motorized Roman shades with Wi-Fi or Bluetooth connections too. That means you can turn your phone into a remote and draw the shades effortlessly whenever you want.
Best Custom Roman Shades Source Near You
The range of choices you can get in terms of Roman shades for your Oakland windows can feel staggering. There are so many options! How do you want what's the best choice for you? Well, an easy and simple (and free!) way to find out is to book a free consultation with Contra Costa Windows Blinds.We'll send an expert to your bay area address to provide all the information you need. Whether you're interested in Roman shades or other window treatments, we're happy to give free estimates on custom covers for windows, doors, and skylights. Give us a call to book your free, no-obligation consultation appointment today!