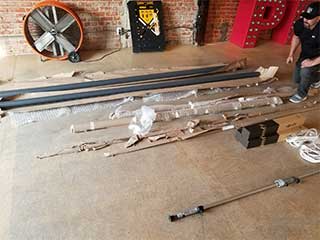 Motorized window blinds and shades are only getting more popular with time. Decades ago, motorized window treatments had the benefits of child safety and convenient handset controls, but not much more than that. The information age sure changed that! With smart shading systems like Somfy motorized blinds become a home management tool that improves your ease of life in many ways. You can adjust your window covers and patio shades while away from home, or even program them to adjust themselves as the weather demands. Our local Contra Costa blinds installers provide you with top deals on Somfy shading solutions of every description.
Motorized Window Blinds In Contra Costa
Traditional, multi-panel blinds are our bread and butter! The main selling point of blinds vs shades, draperies, or shutters is that you can rotate the slats in place. This gives you more options for light distribution across the room, especially if you have a sheer shades layer on top of that. With Somfy's motorized smart blinds, slat position is just another variable for the computer to handle based on the weather conditions and your preferences.
Smart Motorized Shading Solutions From Somfy
If you want simple and cheap, fabric shades might be more to your liking. If you want rich and decorate, shades might still be the choice for you! Window shades come in even more diversity than blinds, and Somfy motorized blinds are no exception. Blackout curtains for bedrooms, Roman shades for guest areas and parlors, sheer shades to cover your blinds, the list goes on! With our Contra Costa motorized shading solution specialists, you'll have professional advice on style, color, and embellishments as well as practical design. Somfy motorized blinds have all the same smart control potential as our blinds, and can even be more insulating depending on style.
Motorized Outdoor Shading and Patio Covers
We don't just do blinds for building windows. Somfy's products also include motorized patio shades, pergola canopies, and other types of outdoor shading. Patio furniture needs protection even more than indoor furnishings do, and keeping harsh sunlight off your skin is important outdoors! Like the window shades and blinds, Somfy outdoor shading solutions include remote-controlled and smart systems. And, just like the indoor blinds, our Contra Costa team designs and modifies motorized patio covers to customer spec.
Free Quotes For Somfy Blinds And Shades
Contra Costa and nearby residents have the pick of the litter with Somfy high functioning and aesthetically pleasing motorized blinds. Call and arrange a totally free consultation appointment, and receive an estimate for your perfect custom automatic window blinds and other motorized shading solutions. We offer in-depth consultation and free estimates on all Somfy blinds and shades.